Vianet Upgrades Home & SoHo Packages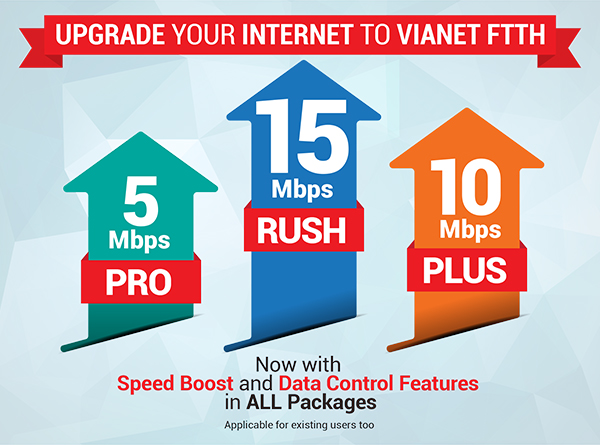 Vianet has recently upgraded all of its Home packages and also introduced new packages in its SoHo/SME line. We have increased the speed and data (High Speed Quota) for all our Home packages. Upgrades have been done as below:
1 Mbps -> Upgraded to 5 Mbps (Speed Boost)
2 Mbps -> Upgraded to 10 Mbps (Speed Boost)
5 Mbps -> Upgraded to 15 Mbps (Speed Boost)
The upgrade was applied even to existing customers for no extra cost. We also introduced our 2 unique features – Speed Boost and Data Control in all packages. Consumers can now select their bandwidth as per their requirement and also pause their High Speed Data, whenever High Speed is not required. Similarly, new Unlimited Plans have been introduced in SME category.