Vianet Launches 175 Mbps internet with TV at only Rs. 1250/-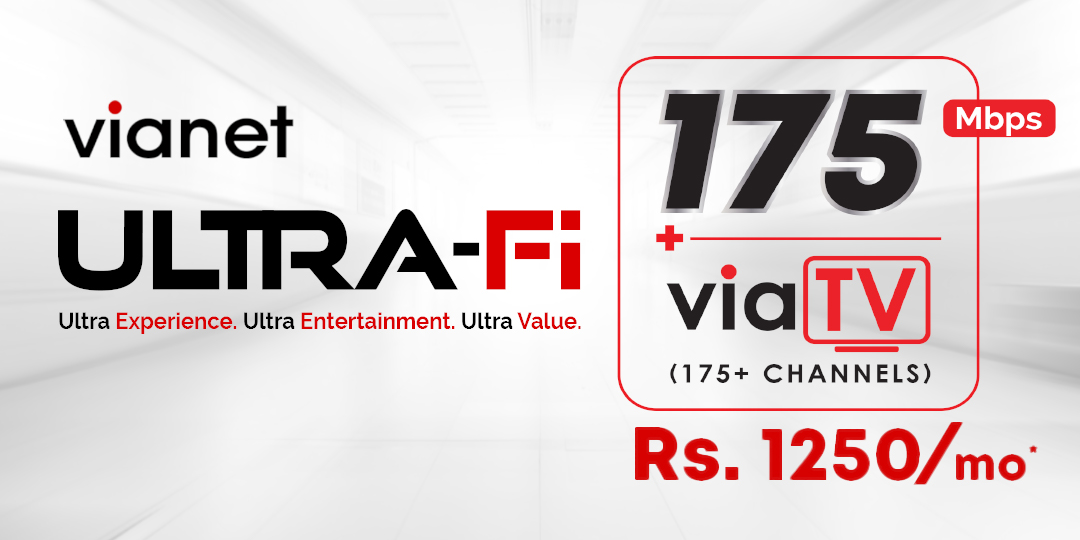 With the aim of providing high speed and high-quality Internet services to meet the growing needs of their customers for work, play and school, Vianet has launched Ultra-Fi line of products – Internet plans that promises to give its users the highest Internet speeds at the lowest prices.
Under Ultra-fi, Vianet has launched three plans – 125 Mbps, 175 Mbps and 250 Mbps, respectively. The highlight of the series is the 175 Mbps internet pack which comes with up to 2 ViaTV subscriptions and is priced at only Rs. 1250 per month on annual subscription. Along with this, Vianet is also offering free Internet installation, free first set-top-box and Rs. 1,000 reward points on all of the packages – making Ultra-fi one of the most lucrative internet plans.
Vianet is continually driven by its vision to enrich lives by providing the best digital experience. Through partnership with global companies like Nokia, Juniper, Cisco, Ciena and now C-Data, Vianet has upgraded its infrastructure to support the new bandwidth and is now providing Dual Band ONUs – Optical Network Unit. According to Vianet, the ONUs provided are Mesh capable and the company looks forward to introducing affordable Mesh Wi-Fi solutions for their customers very soon.
For more information regarding Ultra-Fi plans, please visit: https://www.vianet.com.np/ultrafi
Vianet is a leading Internet and TV solution provider in Nepal and has been offering its customers new and innovative internet solutions for both personal and professional usages.