Vianet Celebrates DRS's Victory in PUBG Mobile Global Championship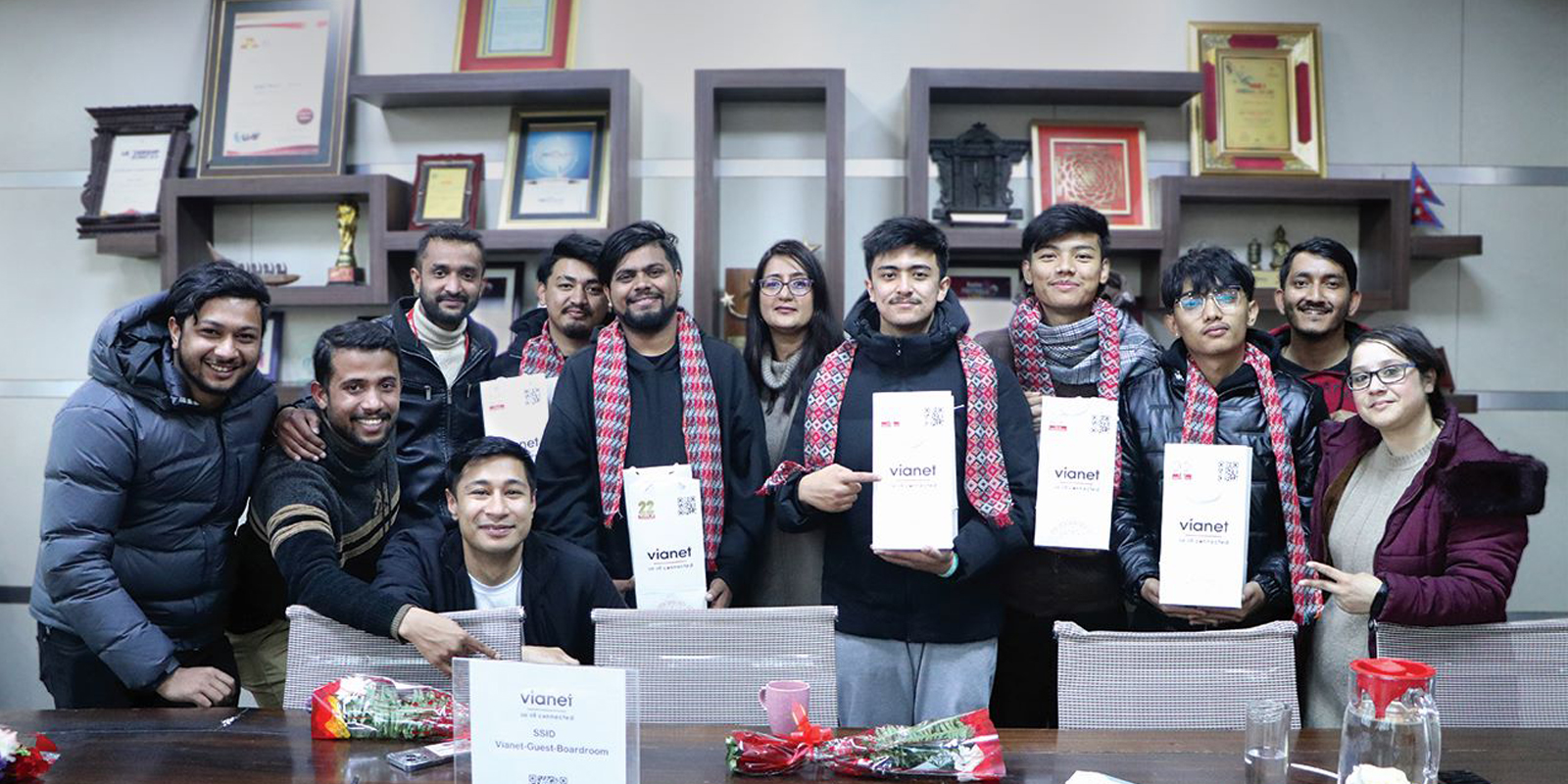 PRESS RELEASE
Vianet Communication, as an ISP Partner and Sponsor, celebrates DRS's victory in PUBG Mobile Global Championship

January 13th, 2022, Kathmandu
The victory of Nepali PUBG Mobile team DRS Gaming, who earned a runner-up finish in the 2022 PMGC grand finals, was celebrated at Vianet Communication's office premises. Vianet is the ISP Partner, sponsor, and long-time supporter of DRS. Deepesh Gurung, Shahas Bhandari, Subin Kumar Prajapati, and Sammer Gurung, members of the DRS team, were acknowledged by Vianet CEO Sewa Pathak Bohra at an event organized by the company.
DRS spoke at the event about their inspirational journey to the final of the global championship and how Nepal's internet connectivity enabled them to advance in the global PMGC arena. They mentioned how Nepal's Internet connectivity has come a long way to meet International standards allowing the Nepalese esports industry to evolve and allow professional gamers to compete Worldwide. Mr. Sangin Bhattarai, Head of Operations of DRS Gaming, further noted how Vianet has been their first preference for the Internet due to its low ping, stable connection, and prompt service.
Vianet CEO Sewa Pathak Bohra assured the DRS team that the company is committed to continue being the preferred Internet of choice for gamers and is further aiming to enhance Vianet's product portfolio curated for gaming. The company will continue to support the esports industry in Nepal.
On January 8, DRS Gaming, one of the most popular PUBG teams in Nepal made history by becoming the first runner-up in the biggest PUBG gaming tournament featuring 51 teams worldwide hosted in Jakarta, Indonesia. The team members shared a cash prize of $200,000 for their historic performance.
The historic win demonstrates the potential of gaming in Nepal. Despite the limitations of a developing country, internet connectivity has improved, and modern technologies promise plenty for passionate gamers willing to follow their passions.
Vianet Communication Ltd. is one of the leading internet and IPTV service provider in Nepal. Established in 1999, Vianet has always remained at the forefront of providing reliable and affordable Broadband Internet Services. In 2011, Vianet pioneered Fiber Optics Internet more commonly known as FTTH internet service and became the first ISP in Nepal to provide dedicated speeds without any sharing ratio thus paving the way for the gaming industry in the country.