Nepal's first 2 Gbps Internet based on XGS Fiber Technology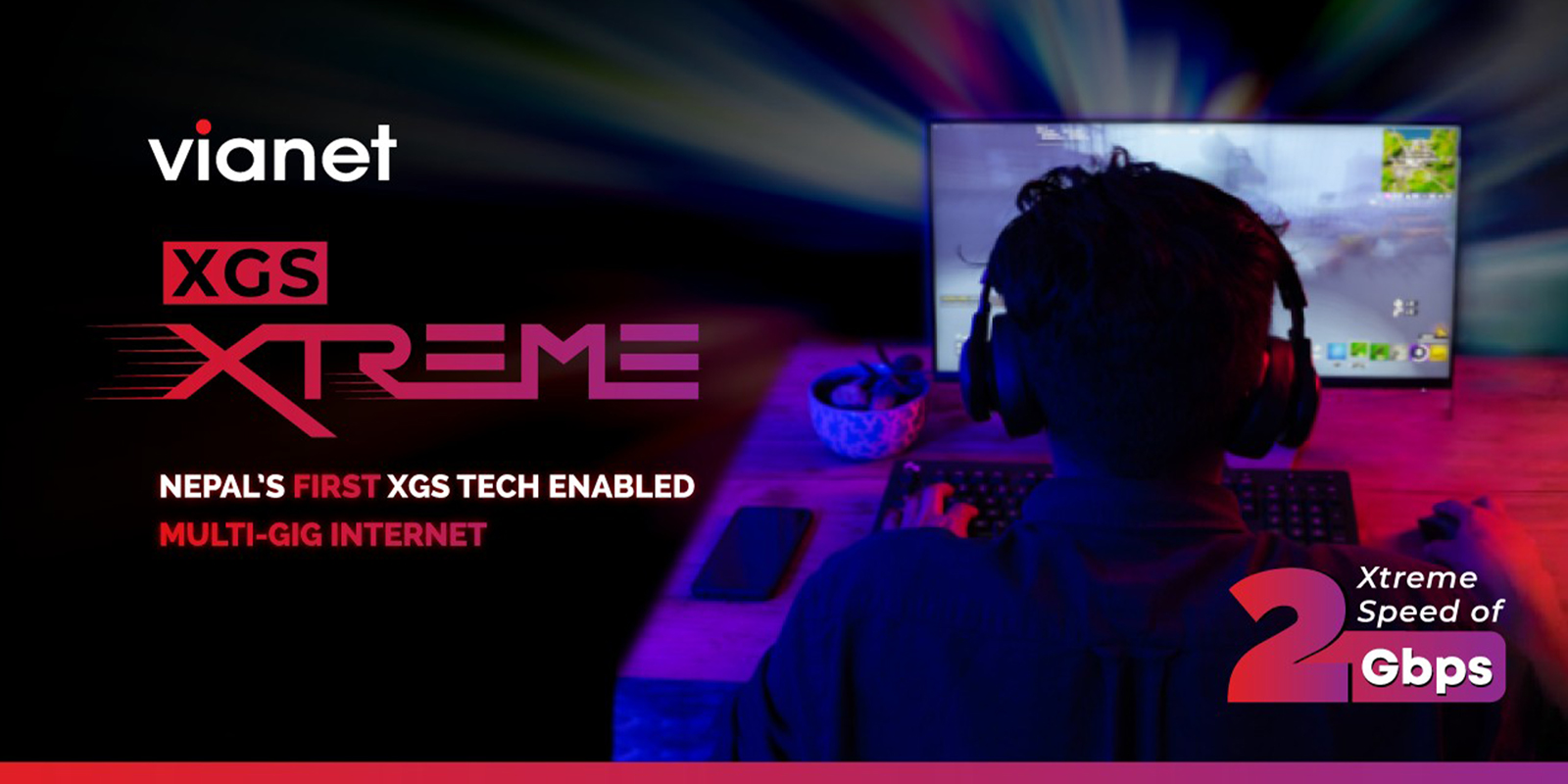 PRESS RELEASE
Vianet launches Nepal's first 2 Gbps Internet based on XGS Fiber Technology

March 23rd, 2023, Kathmandu
Vianet Communication, one of Nepal's leading internet service providers, has announced the launch of Nepal's first multi-gig Internet connection based on the latest XGS fiber technology with the unveiling of its 2Gbps XGS-Extreme package. With this revolutionary technology, Vianet Communication aims to set a new standard for internet connectivity in the country.
XGS-PON which stands for 10 Gigabit Symmetrical Passive Optical Network, is the latest fiber-optic broadband technology that delivers up to 10 Gbps download and upload speeds. Currently, Gigabit Passive Optical Network (GPON) technology is the primary method used for Internet distribution which has a maximum download speed of 2.4 Gbps and an upload speed of 1.2 Gbps. While this is sufficient for most users, for extreme users and businesses who require higher bandwidth, especially high upload speeds, XGS-PON can provide symmetric upload and download speeds of up to 10 Gbps.
Vianet Communication has chosen this technology to provide Nepal's first 2 Gbps internet service. This enables customers to experience lightning-fast download as well as upload speeds, seamless streaming, and superior gaming performance. This also positions the company to be future-ready for applications such as virtual reality, high-resolution video streaming, simultaneous streaming from multiple devices, and cloud computing.
Currently, the XGS-Extreme line of products, which is based on the new XGS fiber technology, is only available in selected areas of Kathmandu Valley. However, Vianet assures that it is committed to increasing the coverage of its XGS products all over the valley very soon.
Vianet Communication has always been committed to bringing the latest technology and superior services to Nepal, and this launch is a continuation of some of the pioneering innovations brought by Vianet in the past. In 2011, Vianet single-handedly changed the internet dynamics of the country with the introduction of Fiber-to-the-home technology for the first time in Nepal. Similarly, in 2016 it changed the TV viewing experience of Nepalese forever with the introduction of Nepal's first IPTV service. The company plans to continue investing in advanced technology and infrastructure to provide the best-in-class services to its customers.
"Our customers have always been at the center of everything we do, and we understand that their internet needs are evolving with time. Therefore, we are excited to bring the latest technology to Nepal and provide the fastest internet service in the country. This launch is a testament to our commitment to bring the best-in-class innovation and services to our customers," said Ms. Sewa Pathak, CEO of Vianet Communication.
Vianet Communication Pvt. Ltd. is one of the leading internet service providers in Nepal, established in 1999. With over two decades of experience, Vianet Communication has been providing innovative internet and TV solutions to homes and businesses across Nepal, delivering high-speed internet and TV services with superior customer experience.