Incredible Discounts on this Festive Season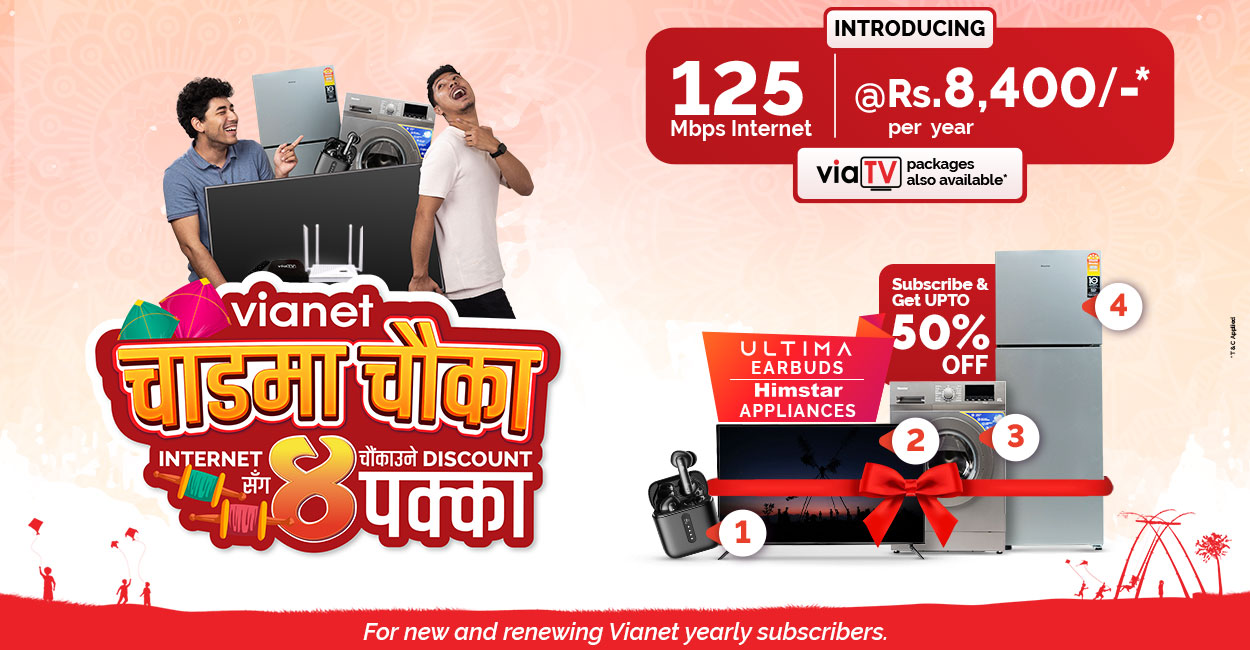 PRESS RELEASE
Vianet launches 125 Mbps Internet at Shocking price and offers four Incredible Discounts this festive season

Oct 04, 2023, Kathmandu
Vianet, Nepal's first Fiber Internet, IPTV and Multi-Gig internet (XGS Xtreme) service provider, is thrilled to announce the launch of 125Mbps at an unbelievable price of Rs. 8400 plus VAT per year. In celebration of the festive season, Vianet is providing generous discounts of up to 50% discount for its customers on Ultima Wireless Earbuds and Himstar Appliances.
In Vianet's "Chad ma Chauka" festive campaign, customers can now enjoy 125 Mbps Internet for just Rs 8400 plus VAT per year, making this the lowest price offered for this speed in the market. Along with this, Vianet has also introduced discounted rates for 200Mbps and 300Mbps packages throughout the duration of this campaign.
To make this offer even more irresistible, Vianet has partnered with trending brands – Ultima and Himstar to provide exclusive discounts to Vianet customers. Vianet subscribers who opt for yearly Internet plans will be eligible for the discounts upto 50% on the four popular consumer electronic items, hence the campaign name "Chad ma Chauka". The four discounted items include Ultima Wireless Earbuds, Himstar Smart TV, Refrigerator, and Washing Machine. The items are a popular purchase amongst netizens during the festive period and are a perfect addition to their homes to enhance their festivities during Dashain.
Here are the amazing discounts available during this limited-time offer.
Ultima Wireless Earbuds: Available for as low as Rs 1,225 inc. VAT
Himstar 43-inch Smart TV: Available for as low as Rs 27,500 inc. VAT
Himstar 55-inch Smart TV: Available for as low as Rs 54,000 inc. VAT
Himstar Refrigerator: Available for as low as Rs 17,510 inc. VAT
Himstar Washing Machine: Available for as low as Rs 41,200 inc. VAT
This exceptional offer is valid until 9th Mangsir, 2080 (25th November, 2023), providing customers to enjoy high-speed Internet and incredible discounts exclusively from Vianet with a fantastic opportunity to upgrade their smart home.

About Vianet:

Vianet is continually driven by its mission of enriching the lives of its customers by providing the best digital experience at the best possible value. Vianet is a leading Internet and TV solution provider in Nepal and has been offering its customers new and innovative internet solutions for both personal and professional usage. For more information regarding Internet plans, please visit: https://www.vianet.com.np/chadmachauka2080